SHEEPSKIN MOTORCYCLE
SEAT COVERS

PEOPLE WITH HAPPY ASSITUDES ---- THEY ALL RODE AWAY ON SHEEPSKIN!!
CLICK ON A PICTURE TO ENLARGE IT
---
May, June, and July 2004 at our store in "Vacationland" Trenton, Maine
To see more riders on Sheepskin >>>
August, & September 2004
,
May, June, & July 2005


2002 HD
883 Sportster Hugger
Kate Donahue
from
Bar Harbor,
Maine


2001 HD Road King
Diek & JoAnn from
Steubenville, Ohio


HD Road King
The Veterinarian
& Brian Buko,
Hyde Park NY
2000 HD Screamin' Eagle


2004 HD Electra Glide Classic
Randy & Ronnie
Erickson from Kodiak, Alaska






2001 HD Super Glide
Cynthia Waddington from Pennsville, N. J.
& Bob Bougart from Bear, Delaware
2000 HD Wide Glide






Triumph
Trophy 3 - 900
Michael Racine
Goffstown, N. H.






2001 Yamaha V Star
Paul Desjardins
St. John,
NB, Canada




2004 HD
Ultra Classic
Rod & Mary Lebrum,
Raymond, ME


2002 HD
Road King
Rose & Leo Barnett,
Belgrade, ME


1997 Honda Shadow
Linda & Art
Dunham,
Merrimack, NH


2004 Honda VTX 1800
Jack Vandemark,
Panama City
Beach, FL


2003 HD
Ultra Glide Ultra Classic
Ray Gallant,
Stetson, ME




2003 HD Ultra
Classic ElectraGlide
100 Anniversary
Paula & Norman
Crochere,
Pownel, ME


2004 HD
ElectraGlide
John Andresick,
Hookset, NH


2002 HD
Heritage Softtail
Maureen & Louis
Boutin, North
Grosvenordale, CT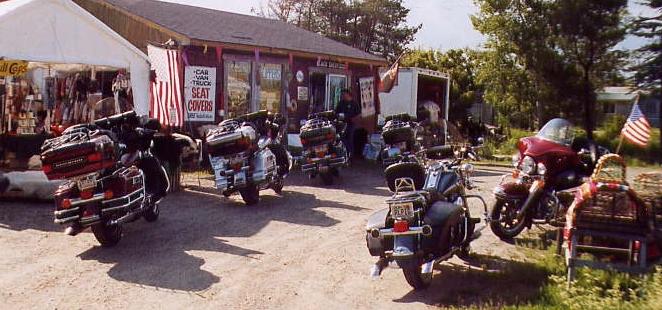 Motorcycles At Our Store During the Summer 2004 H.O.G. Rally


2002 Yamaha
1100 V Star
Albert Almiron,
Missauaga,
Ont. Canada


2003 HD
100 Anniversary
Ultra Classic
Debby Doten
& Bruce White,
Meddibumps,
Maine


2003 Suzuki
V Strom
Diane Chevalier &
David Murry
Eden, Ont. Canada


2004 Honda
VTX 1300
Don & JoAnn Adams,
Indian Mt.
New Brunswick, Canada
To see more riders on Sheepskin >>>
August, & September 2004
,
May, June, & July 2005
---
YOU AND YOUR MOTORCYCLE CAN ALSO BE PICTURED HERE!
Just stop by our store in Trenton Maine, purchase a Sheepskin Seat Cover for your bike and we'll take your picture. (That's what most of the folks on this page did.) If you're too far away to stop in just send us a picture of you and your bike after you purchase a Sheepskin Seat Cover. Be sure to smile!!!

Use The Big Buttons Below To Cruise Around Our Online Motorcycle Seat Cover Store Or Use The Smaller Buttons Further Below To Travel Anywhere In Our Store













THE BLACKSHEEP TRADING COMPANY
Store Location: Route 3, Bar Harbor Road, Trenton, ME 04605
Mail Order: 727 Bar Harbor Road, Trenton, ME 04605
tel. 207-664-7474
Outside Maine: 1-800-715-5262
email: info@blacksheeptrading.com


©Copyright 2007 - 2013 Black Sheep Trading Company
---
Sitemap