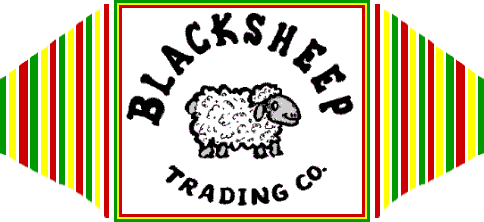 SHEEPSKIN AUTO SEAT COVERS
SHEEPSKIN MOTORCYCLE SEAT COVERS
SHEEPSKIN SLIPPERS

CHILD TO ADULT SIZES

SHEEPSKIN MITTENS
SHEEPSKIN BOOTS
COW HIDE RUGS

ORDERING &

REFUND - EXCHANGE INFORMATION

SHEEPSKIN STEERING WHEEL COVERS

OTHER PRODUCTS

OUR STORY


Welcome to the BlackSheep Trading Company's Online Store!
Use the links above to view our selection of Sheepskin Auto Seat Covers, Sheepskin Motorcycle Seat Covers,
Sheepskin Steeing Wheel Covers, Sheepskin Slippers, Sheepskin Mittens, and Sheepskin Boots.
You will see all of our high quality products are offered at the lowest price possible.

Please call for more information on our other products, including:
Cowhides
Sheepskin Auto Accessories

Seat Belt Strap Covers
Deerskin Wiping Cloths For Drying Cars
Coon Tail Hats
Sheepskin Rugs & Throws
Sheepskin & Leather Hats
Leather Backpacks & Fanny Bags
Leather Belts
Leather Outback, Cowboy Hats
Rabbit Skins
Sheepskin Bicycle Seat Covers
Wood Lobster Traps & Buoys
Many Styles of Handcrafted Birdhouses
Suspenders & Braces
Sheepskin Innersoles
Nostalgic Posters, Photos, & Metal Signs
Cowhides
Sheepskin Auto Accessories

Seat Belt Strap Covers
Deerskin Wiping Cloths For Drying Cars
Coon Tail Hats
Sheepskin Rugs & Throws
Sheepskin & Leather Hats
Leather Backpacks & Fanny Bags
Leather Belts
Leather Outback, Cowboy Hats
Rabbit Skins
Sheepskin Bicycle Seat Covers
Wood Lobster Traps & Buoys
Many Styles of Handcrafted Birdhouses
Suspenders & Braces
Sheepskin Innersoles
Nostalgic Posters, Photos, & Metal Signs



© Copyright 1997 — Black Sheep Trading Company
Sitemap